While many media outlets at the start of the year flagged natural wines as a fleeting trend, our associate editor argues that's simply not true, as minimal-intervention winemaking techniques have been around for centuries.
BY SARAH E. DANIELS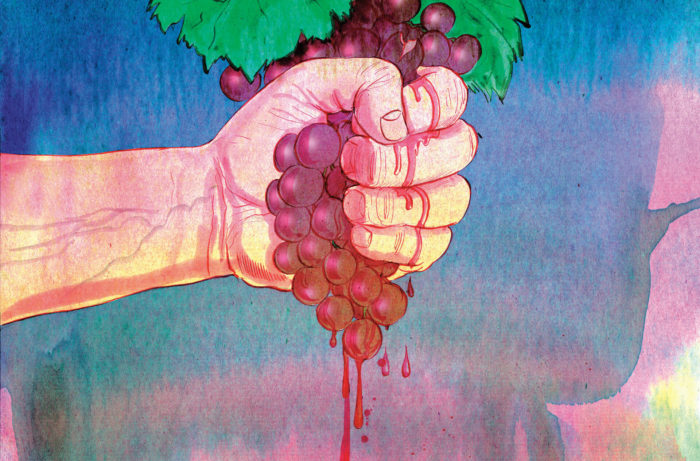 The world of wine is just as susceptible to trends as art or fashion or anything else in our cultural bubble. So at the turn of January, per usual, about 1,001 articles swept into my social network analyzing top beverage themes from the previous year and predicting the stories that would shape the next 12 months to come.
Though I tend to dismiss the annual flood after the first few, I perused a decent chunk, each echoing the one I had just scrolled. This time, one fad among them stuck out, stepped on my toes and sent my senses off.
A lot of outlets were flagging natural wines (loosely defined, those made with as little manipulation and intervention as possible) for their recent popularity, anticipating a further rise to all-out trendy, then wondering some version of "will it last" or "will they survive among the mainstream?"
This is a problem.
First, it's incredibly silly to write these off as a fad. Yes, the last few years, and especially 2017, have witnessed natural, minimal-intervention selections evolve from wine-nerd darlings to more popular, buzzy buys.
However, the practices behind these bottlings are no novelty. Centuries old, natural wine's staying power is proven merely through a continued, untouched existence. That's sort of the whole idea, isn't it, that they're produced via the most traditional, natural techniques possible?
Which brings me to a second point, about mainstream survival: True-to-the-category wines will still be made for eons to come, hip or not. Natural wines represent a deft, terroir-forward perspective, and, despite their varied interpretations, intrinsically promote biodiversity and sustainability in the vineyard and beyond. Their producers are generally more concerned with things like vine health or environmental footprints than stocking shelves. And they likely always will be.
Instead of wasting time asking how long they'll be popular, shouldn't we be praising those producers able to achieve natural wines of high-quality on a grand enough scale to get them to consumers, figuring out how to better share their stories, and maybe even reconsidering wines made with a gross amount of processing and little regard for their surrounds?
For the time being, I encourage you to think, and drink, beyond the pretenses set directly before you—it's only natural for us to seek the truth.
Natty Wines to Try
Fausse Piste 2015 Garde Manger Syrah (Columbia Valley). Fresh, soft and full-bodied, with lush black fruits and earth—it's like a bottle of liquid hospitality.
Les Tètes NV Tète Blanche (Vin de France). Make yourself an herby omelette and open this ultraclean, white flower-flecked nugget.
Old Westminster Winery 2017 Pét-Nat Albariño (Maryland). If there was a flower-stem flavor of Sour Patch Kids, it'd taste like this: Bright, fizzy and pleasantly funky.
Filipa Pato 2016 3B Extra Brut Rosé (Beira). A blend of Baja and Bical, this is zesty, bright and loaded with red berries, but also structured.
We'd love to hear about some of your favorite natural wines. Tag us @WineEnthusiast and use #WEtaste to share your best recs.
Source: winemag.com