From quality Pinot Grigio to Spanish Txakoli, pick a wine rated by our experts and get it chilling...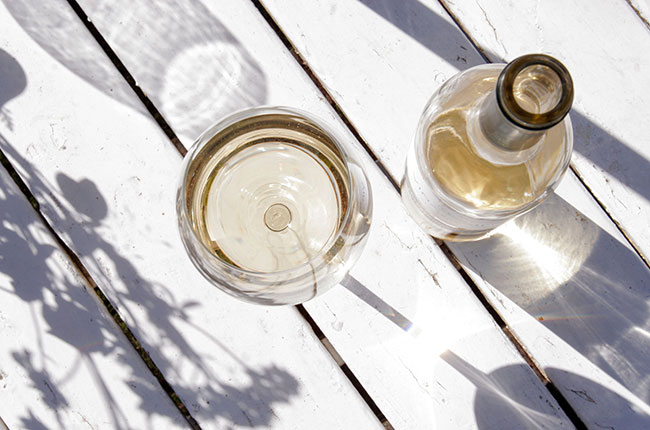 When the sun is shining, there are few things more refreshing than a cool glass of white wine, whatever your favourite style.
If you love Pinot Grigio or Gris, we've got some quality recommendations for under £30.
For other crisp, dry, fruit-driven whites, try our top Chablis alternatives, our Galician whites panel tasting or our Australian Riesling panel tasting – a great 'all-rounder' style for barbecues, according to our guide.
If you enjoy whites with a slightly more weight and oak, check out some of our top rated New Zealand Chardonnays.
Impress your friends with the white wine style to try for 2018 – Txakoli.
If enjoying your wine on a picnic, make sure you remember the essentials: a corkscrew, ice packs or ice and glasses.
Take your pick of the wines below, all tasted and rated by Decanter's experts. Then all you have to do is get the bottle in the fridge…
1. Greywacke, Sauvignon Blanc, Marlborough, New Zealand, 2017. 92 points
Always one of Marlborough's top Sauvignon Blancs, made by former Cloudy Bay winemaker Kevin Judd. It has gentle tropical and citrus aromas and flavours, and the complex layers mean that each sip reveals a little more. A very stylish wine.



2. Berry Bros & Rudd, Chablis, Burgundy, France, 2016. 90 points
Chablis is in short supply due to a string of poor vintages, so buy the good-value ones while you can. This is fragrant, fresh and pure with grapefruit intensity, stony minerality and vigorous limey acidity that lasts through the long finish.

3.Terlan, Trentino-Alto Adige, Italy, 2016. 90 points.
Pale gold in colour. Sappy and a little green on the nose, but very discreet aromatics, like snowdrops peeping from the snow. Very clean and pristine. A fresh, lively and elegant style of Pinot Grigio, with marrow, and length, ending with a stony-clean finish: the true mountain style.

4. Gini, Soave Classico, La Froscà, Soave, Veneto, Italy, 2014.

5. La Crema, Monterey, Chardonnay, California, USA, 2015. 90 points
This Chardonnay has a ripe nose reminiscent of apple crumble, with its baked apple component joined by sweet spices and creamy vanilla. The palate is sweetened by a hit of vanilla on the attack, the rich, ripe fruit flavours wrapping themselves around the wood. Honeydew melon, spiced apple, nectarine and...

6. Bodegas Fulcro, Finca a Pedreira Albariño, 2016. 93 points.
A garage wine, no less, made within sight of the sea, grown on granitic, sandy soil. Manuel 'Chicho' Moldes ferments it in stainless steel and adds just a touch of barrel-aged wine for texture. An Albariño that is far more complex than the usual fare. Terrific!

7. Doniene Gorrondona, Txakolí, Gorrondona, 2016. 91 Points.
A young team runs this bodega with its hillside vineyards in Bakio, home of Bizkaia's Txakolis. This is its 'regular' Txakoli: Hondarribi Zuri, with 4% of Mune Mahatsa and 5% 'others'. Vibrant and crisp with fresh herbs and a saline edge. Long finish.

8. Aldi, Clare Valley, Exquisite Collection Riesling, 2017. 89points.
A lovely Riesling that has a classic lemon and lime nose which leads into a lip-smacking, tangy palate filled out by some lovely peach and tangerine flavours. Finishes on a dry, limey acidity.

9. Antiquarian, Riverland, Rare Field White, 2015. 92 points
The Riverland is not normally a place you'd expect such quality, but this is a real find and worth seeking out – though just 200 cases were made. Matthew Jukes has compared it to a white blend from Swartland in South Africa, or a Jurançon Sec, and it's easy to...

10.

Tenuta Carretta, Gavi, Piedmont, Italy, 2016. 90 points

.

Citrus and floral notes lead into a palate which has a gentle honeyed stone fruit character, with a saline, limey undercurrent of acidity. Fresh and easy, quite succulent too..

Source: Decanter.com